Minimized paperwork!
Great new updates in less installation time!
We have fitted Edition 5 with an update routine that checks via the Internet whether youíre working with an up-to-date edition; if not and - provided your confirmation - it will update to and install the new edition automatically.


Update starting from 150 €
---
58 new features
coming with
Edition 5
We will display eight more in detail :
---
Back to top

Invoices
• Print on the spot
• Send by email
Done!
A common routine: Print invoices, fold them twice to bag them, buy toner for the printer, refill paper, buy stamps and envelopes. Check whether the address is still legible through the transparent window...
Now it is much easier: You just enter the shoeing process into your computer / iPad and send your bill environmentally friendly via email.
You are finished - now itís your customerís turn.
.
Note:
Since July 2011 invoices by email have a legally binding status in Germany.
To ensure the quality of work, Sweden is the first country to develop and introduce by law a documentational standard for equestrian professionals and horse farriers. We adjusted to this requirement and implemented it in the new edition of
farrier1
. Now you can put the condition
of each hoof
on record.
Back to top
A number of detailed improvements simplifies writing yours invoices etc. List views can be placed anywhere,
farrier1
keeps track of everything. The orders as well as the goods and services group window can be adapted to the screen size (see fig / blue bar). All master data windows now work with a quick selection [A.. Z]. In the phone book the font size can be varied; as an example a larger font size may be recognized easier in the car. Moreover, order entries may be copied, which is faster than recreating them again. Large amounts of data (i.e. many items) can now be grouped and put into different colours (see figure).
When entering data you see right on the spot the entry fields you have to fill out at least.
Being in your customerís stalls, you probably want to enter only the most necessary data and deal with your customer instead.
Back to top
We have substantially revised the automatic posting of bills by bank transfer. Should a customer pay several invoices in a single batch file transfer, it will be automatically processed as well as an invoice, which is being paid in several installments. Already allocated bookings are now marked. Additionally, the take over of expenditures from home banking is a brand new feature. This feature still matches with your private home banking unanimously because
farrier1
does not access to your private account directly, but only to the downloaded turnover list.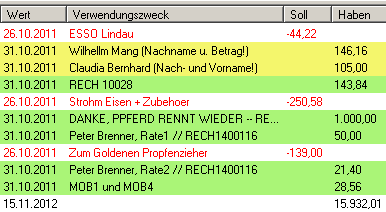 Higher hit rate
Bill in installments / payments
Batch transfers (multiple invoices)
Book outgoing payments super easy
Intelligent assistant
By placing an outgoing payment in your cash book you may select the respective supplier. Accordingly previous receipts are displayed directly, i.e. as sales taxes and a private-split (
e.g. telephone and Internet expenses, referring to as 55% company use, 45% private use
).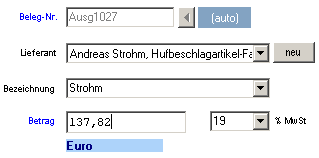 In conjunction with home banking (see above) you can book expenses
without typing
.
Just click on a word from the bank statement, e.g. "Strohm",
farrier1
recognizes and suggests a suitable booking.
---
Back to top
The German tax office will accept your data largely paperless via ElSter, the electronic tax return.
The financial accounting module I enables you to submit your accounting data directly to the tax office. In order to simplify this further, we have developed a direct output in the ElSter format. You can immediately see the entry boxes which have to be filled out for the VAT return by ElSter.
For the co-operation with tax advisors we recommend the financial accounting module II.
Just ask - we will be glad to help.
With the financial accounting module I you can see your inputs and outputs for a chosen period.
At the same time, you can check all the relevant entry fields for the tax return.
---
Do you work with other farriers as a team? Does your team drive different vehicles and forge at different places? After each fitting each team member documents his services for the horse. Several times a week all networked computers of your shoeing business are synchronized.
No problem for the team edition of
farrier1
.
From edition 5 on, multiple computers can be synchronized, even if they were not connected during the day.
Example: The computers in both team-vehicles will be synchronized via the cloud to a third computer in the office.
Back to top
Take down new addresses and appointments on the go and immediately print invoices as well as receipts. Everything right on the spot with the
iPad
; ready with a button touch. Or you might use the iPhone or any other smart phone (e.g. Android, Nokia, Blackberry).
The mobile edition can be synchronized without the computers being connected via cables. For example an appointment may be noted in the office and immediately be transferred to the mobile deviceís display via the cloud.